WEDDING SHOES | NIKE AIR FORCE 1 BESPOKE
Nike Air Force 1 Bespoke 2011 (Wedding inspired)
Last year I got married….  After 12 years it was about time.
As my family and friends know.. I am a massive sneaker head.  (Girls, when you say you love shoes… I understand. =P)  So for my wedding, knowing my love for all things with a swoosh… my wife told me I should get a pair of Nike Air Force 1 Bespokes to wear for the occasion! (Bless her!)
For the uninitiated, it is a 1 of a kind custom Nike Air Force 1 made from hundreds of materials to choose from.  As far as Nikes go.. Its the pinnacle for the average sneaker head like me!
So with the help of iZ (Nike Bespoke Genius @ 21 Mercer, New York) and the wonders of the internet, I was able to create myself a pair of wedding shoes.
Originally i was looking to do a whole croc shoe with a grey croc swoosh and black croc all round.  But iZ suggested that I go with black croc and patent leather.  (Also because they ran out of grey croc)
I chose the red patent to give the shoe a more Asian wedding feel as well as gold lace tips.
iZ thought maybe clear soles so it was like I was walking on Air!
With the addition of the double lucky…. My wedding shoes were created!
Tell me what you guys think!  I don't think I will be wearing these shoes again.  Like my marriage.. I hope once will be enough.  =P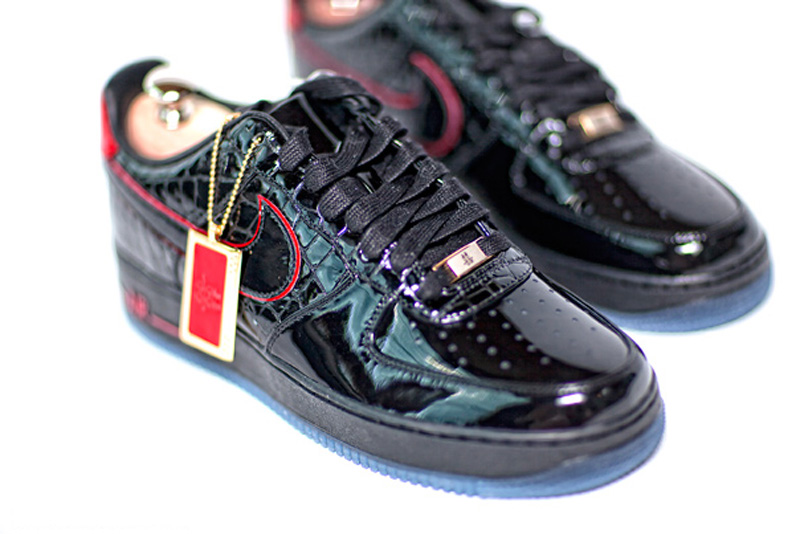 We Greatly Appreciate Your Comments: